Deadly Bones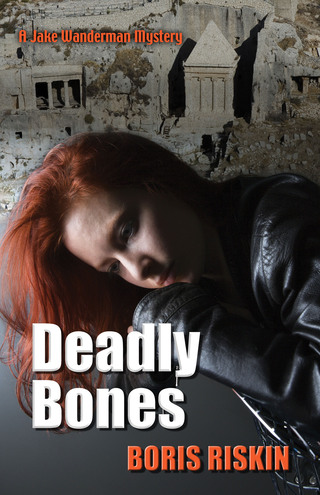 Jake Wanderman is not your average retired Shakespeare teacher. He recently clashed with the Russian Mafia, for instance, and emerged triumphant. Now, Martha Stewartish TV star Toby Welch persuades Jake to help solve the vicious murder of her father, art dealer
Cormac Blather.
Jake uses Toby's celebrity to join the investigation being led by red-haired, green-eyed Detective Sienna Nolan. Though still grieving the loss of his wife, sexy Sienna gets to Jake without even trying, stirring up feelings he'd thought lost forever. Together, Pro-Am Sienna and Jake connect Blather's murder to billionaire Bryson Mergenthaler. Seems shady Cormac
sold him an ossuary alleged to have carried the bones of Jesus' brother, James. An allegation that, alas, under closer examination of the ancient bone box, did not hold up.
Too many dead ends eventually force Jake to fly solo to Jerusalem. Intrepid, he scours the Holy City for the truth behind the "relic". Shadowy operatives move to foil him. These guys make the Moscow gorillas look like lambs. They drug, kidnap, and torture-tie him up, promising him death if he doesn't quit. Only Jake's gift for making friends saves him, when stunning Jerusalem PD Sergeant Liat (first name) rescues him at the last minute.
Soon Jake is back in Sag Harbor, nursing his own sore bones, not quite in Sienna Nolan's buff arms, but close enough to plan their next move.
DEADLY BONES ripples with humor, quirky characters and thrilling plot spirals. Like Sam Spade phoning his reports in to Effie, Jake Wanderman himself talks us through this corkscrew case in the same, inimitable Brooklyn-wise-guy style that made SCRAMBLED EGGS read like salted peanuts. Never missing a chance, of course, to add a pinch of Shakespeare for taste.